When choosing the switch disconnector, the first thing to consider is the category of use, that is the application to which it's intended. For example, the table below lists:
| | |
| --- | --- |
| AC-21 | Switching of resistive loads, including moderate overloads |
| AC-22 | Switching of mixed resistive and inductive loads, including moderate overloads |
| AC-23 | Switching of motor loads or other highly inductive loads |
The category of use actually determines which current must be considered.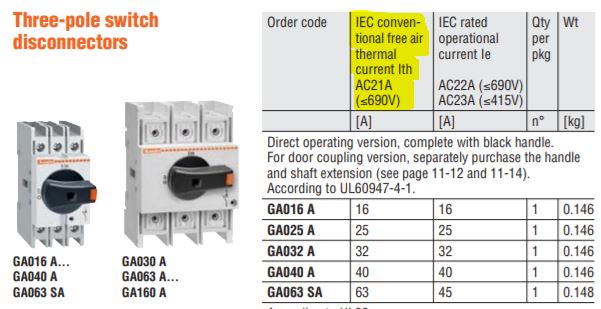 The conventional thermal current in free air Ith refers to the use of the appliance for continuous use without overheating beyond the limits allowed by the product standard, therefore its value is always greater than or equal to the maximum rated operational current Ie .
The rated operational current Ie, on the other hand, is the current value that the circuit breaker can bring into uninterrupted service based on the category of use.
In the LOVATO Electric offer, in most cases the value of Ie coincides with that of Ith, testifying to the high quality of the components used which ensure, with more demanding tests, such as AC22A and AC23A, performance similar to those in AC21A.
There is also a conventional thermal current in Ithe casing which is established by the manufacturer in relation to a specific enclosure where the device must be maintained. This is the case, for example, of switch disconnectors in metal enclosure:

__________________________________________________
Other information on this topic
Visit the website page dedicated to switch disconnectors.
Check out our videos: